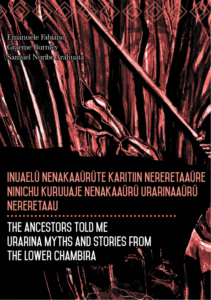 Emanuele Fabiano, Graeme Burnley & Samuel Nuribe. ArahuataInuaelü nenakaaürüte karitiin nereretaaüre. Ninichu kuruuaje nenakaaürü Urarinaaürü nereretaau / The ancestors told me. Urarina myths and stories from the lower Chambira. Lima: CAAAP/IIAP/U.of St. Andrews, 2022, pp.340.
This book is the result of a joint project of over three years, in which we bring together narratives and myths of the Urarina people from the Peruvian Amazon. The transcriptions in Urarina are accompanied by translations into Spanish and English, in order to disseminate this cultural treasure and to share the rich Amazonian worldview with others in Peru and throughout the world.
The Peter Lang series Plants and Animals: Interdisciplinary Approaches, co-edited by Susan McHugh and Patrícia Vieira, publishes monographs and edited books that address key themes in the fields of plant and animal studies from an interdisciplinary perspective.